Our Stories
2021 Update
During 2021, we received a record number of funding requests from various sources. However, the majority of the requests we receive are initiated by the various Social Workers at BC Children's Hospital and the staff at Ronald McDonald House BC. In many cases, the requests are for funding to cover medical related items that are not covered by Medicare costs. However, there are also a number of requests for support in day to day living expenses the families cannot afford due to the circumstances around their child's medical condition. A common story we have seen, is that the family has had to give up at least one of their family income streams, as their severely sick child requires full time care. We are happy to say, that due to the ongoing support of our loyal friends, associates and families, we have been able to approve almost all of the requests submitted. Thanks to all who have and continue to support us with donations (just a reminder that we can issue tax receipts for funds donated to us and that we can accept credit cards, cheques or e-transfers)!

2019/2020 Update
Here is a snapshot of various initiatives we have funded in the past few months:
(Ongoing) – We fund a program in conjunction with Ronald McDonald House of BC (RMH). Part of their residency clientele includes families who have long term stays at RMH (over 6 months). To assist those families to re-establish themselves upon returning to their homes at the end of their stays, we provide a $750 gift certificate package (gas to get home, food to re-stock their fridges, and clothing).
COVID-19 Support #1 – COVID-19 has changed a few things at RMH. One of those is a situation where a resident-family has an initial stay, then can go home for a while, and then must return for further treatments. Once the family leaves RMH, due to COVID-19, they are not allowed to come back to stay at RMH. So, they approached us to fund 2 families for off-site accommodation…which we did - $3,000 each.

" We are a family from Prince George. I had complications in my pregnancy and my son was born at 30 weeks. He has severe chronic lung disease and had surgery for a tracheostomy in April when he was 4 months old. Ronald McDonald house had closed its doorsto new family members due to COVID. So we were homeless. I want to thank you so much for helping find our apartments in May so that we could all live together. In June, RMH opened back so we moved back into the house. But without your support, our family would have been separated for a month.

I am happy to say that after 268 days in NICU, we moved home as a family!

Thank you for your help! "

Carrie, Travis, Connor, Melanie, & Matthew

Covid-19 Support #2 – Families staying at RMH during hospital treatments provide their own food to be used in the community kitchens. During the early days of COVID-19, those families were not allowed to go out shopping for groceries, leaving a new financial responsibility for RMH to purchase/provide food for their residents. They approached us, and we were happy to commit to three months of $3,500/month to put towards their unexpected food costs. RMH was able to establish a relationship with Sysco Wholesale Food to allow them to order directly from the wholesaler and have the food delivered to them directly.
(2 families) – We have two low-income families with children who have heavy costs for medical prescriptions. They both qualify for BC's Fair Pharmacare support. However, in both cases, there are initial deductible amounts that the families must pay before they start getting the government support. Better Days Society has agreed to fund the upfront deductible amounts for this year, which effectively means (between our Society and the BC Government) the family has no out of pocket costs for the large prescription costs. These are $750/family each year.
(1 family) – We funded the purchase of prescriptions for a young boy with severe allergies, as the prescriptions are not covered by BC medical. This boy also travels from one of the local islands for his doctor follow-ups, and we have funded accommodation costs for the family.
(1 family) – We funded the replacement of a washer and drier for a low-income family whose young daughter has a condition that leaves them having to do laundry very frequently. They did not have the resources to buy a new set when their current set stopped working.
(1 family) – A single Dad and his son had to be Air-evacuated from Prince George to Children's Hospital in Vancouver due to a fast-growing infection. The trip home is not covered, so Better Days Society paid for this low-income family's return flight home.
(1 family) – We funded a Self-Injurious Behavior Clinic Assessment for a young child as the assessment was not covered (but treatment after the assessment would be if deemed necessary).
Currently, most of our opportunities to assist low income families with extremely sick children, are coming via contacts at both Ronald McDonald House BC and various social workers at BC Children's Hospital.
Ronald McDonald House

The Better Days Society (BDS) got involved with Ronald McDonald House BC in 2019. Some of the family stories we have been involved with include:
Kathleen & Evan – Evan, at the age of 4, developed a very serious infection in his body which took intense treatments to overcome. However, Evan lost some fingers and toes as a result of the infection and requires custom bandages to assist with proper healing of his hands and feet. This cost is about $750/qtr. Kathleen had to give up her home and job to bring Evan to Vancouver for treatment. As such there was a strong need for funding of food and clothing.

BDS has given Kathleen and Evan gift certificates to cover a couple of months of food and some clothing money. We have also agreed to cover the cost of future bandages until they are no longer needed. Kathleen and Evan have been at RMH for over 4 months. BDS will continue to support this family as our funding permits.

Connor and his Dad, had been at RMH for over 290 nights when we were introduced to their situation. Dad is single parenting (he lost his wife the previous year to cancer), and has another son who stays with the grandparents in their home of Quesnel. We were able to assist with gas and food gift certificates.

We are in the process of reviewing a number of other family situations brought to us by RMH and look forward to assisting as many as we can, while still making sure we help significantly to the ones we do help!
---
Ella Ray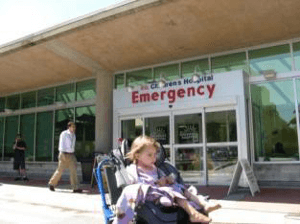 Ella Ray was a 2½ year old girl when we became aware of her situation. She was born with very rare form of skin cancer. Over the next few years, Ella had over 30 surgeries, most of which were skin grafts to remove/replace the diseased skin. The doctors had to put expanders in her back to stretch her good skin, as they were running out of skin grafting locations.
Her Dad is single parenting and had to give up his job, as Ella Ray requires constant care. Concerned family and friends started up a trust fund to assist paying some of the costs associated with her treatments. BDS contributed to this trust fund for numerous years, so that we could take some of the pressure off the family as it gives them some reliable funding.
---
Stephanie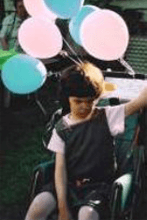 Stephanie has a very extreme case of epilepsy. Her seizures started when she was about 2 years old. Before long, she was experiencing many seizures each day, including multiple "grand mal" seizures. Over the course of the next couple of years, she received treatments through traditional medical methods.
As the situation was not significantly improving, the family investigated other forms of treatment as a last resort. They found a local doctor who was training in both traditional and homeopathic medical disciplines. He felt that he could help by using homeopathic treatments. Unfortunately, these types of treatments are not covered by the medical plan and the costs were beyond the family's means.
Better Days Society assisted in paying the substantial costs of this alternative treatment. This gave Stephanie and her family a chance at living some better days in her future.
---
Others
Over our history, BDS has also assisted families in covering costs associated with:
Travel costs to attend Eating Disorder Clinics for an out of town family
Travel costs for an out of town family to have their child assessed for alternative health treatment opportunities
Shoes for a young boy who, due to cerebral palsy, had two significantly different sized feet. Each time the child needed new shoes, they needed to buy two pairs
Assisted in the purchase of a handicap van to assist the transport of a family with a disabled child
Contributed to an organization that was taking a group of special needs children to an out of town baseball tournament